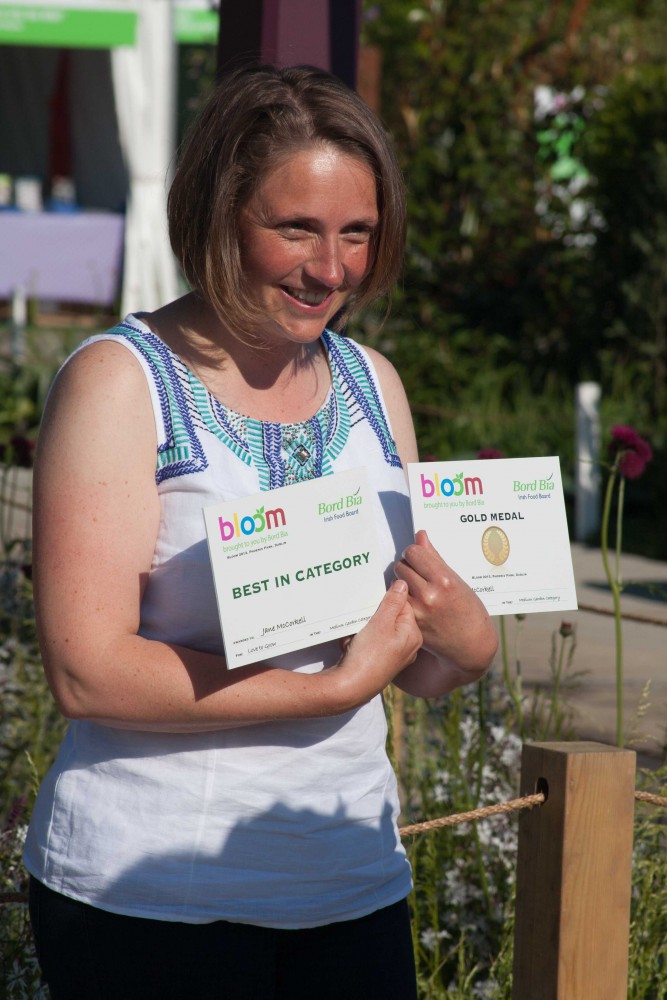 Bloom 2007 – Gold Medal
Bloom 2008 – Gold Medal
Bloom 2010 – Gold Medal, Best in Show
ALCI 2010 – Award of Merit for a Private Garden
Bloom 2011 – Gold Medal
Bloom 2012 – Gold Medal, Best in Show
Bloom 2013 – Gold Medal, Best in Category
Bloom 2015 – Gold Medal, Best in Show
ALCI Landscape Awards 2015 –Joint Winner – Private Gardens
ALCI Landscape Awards 2015 –Award of Merit – Private Gardens
About Jane
Jane Mc Corkell studied a Degree in Landscape Horticulture at Writtle College, Essex, and completed a one year gardening apprentice with the Royal Horticultural Society at their flagship garden in Wisley, Surrey.
After a number of years in industry Jane completed a Master Degree in Landscape Architecture at UCD.  Whilst completing her masters, work included the restoration and maintenance at Dargle Cottage, the riverside gardens created by Sir Basil and Lady Goulding.
On graduating Jane lectured at the Salesian College of Horticulture and Blanchardstown Institute of Technology.
Today Jane practices as a Garden & Landscape Architect and Landscape Horticultural Consultant.
Services provided by the practice are;
Garden Design, both urban and rural
Horticultural and Design Consultancy
Landscape Planning Application Design
Consultancy for Community Projects e.g Pride of Place
Show Garden Design and Construction
Garden Club Talks and Lectures
Jane has received recognition for her work with seven gold medals from Bloom along with four Best in Show awards.
Her work has been widely published by Homes and Garden, The Book of Gardens, Passie Voor Tuinen, The Garden Design Journal, Horticulture Weekly, The Irish Times, and many other Irish Newspapers and Publications.
Practice Clients include Bord na Mona, Tobermore Concrete, Meath County Council, Volkswagan, Keelings, Corcoran Whelan Smith & Assoc. and many more.
Design Philosophy
'My aim is to create beautiful and elegant gardens for people to enjoy for many years into the future.  By combining high quality landscape materials with attention to detail, and never sacrificing on design principles, the designed landscape can become a very exciting and rewarding place to be.  It is important for me to work close with my client, and understand what their specific requirements are. This ensures that I can successfully create gardens and spaces they engage with, and be continuously surprised by.'
Garden Hacks videos:
YouTube videos with quick and easy gardening tips. Part of Garden Hacks by Bord na Mona.
YouTube videos:
YouTube videos with Jane demonstrating basic gardening techniques. Part of Brighten Up Your Garden by Bord na Mona.